More of the Adams Clan
At the top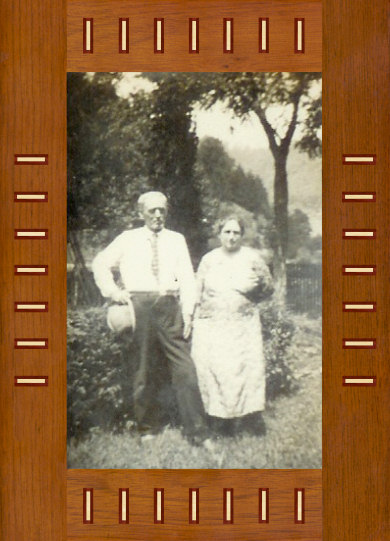 Papaw Will and Loretta Adams
Papaw always kept his lawn and hedges trimmed neatly. Looks like they standing in front of the hedge.
Mamaw Adams' Mother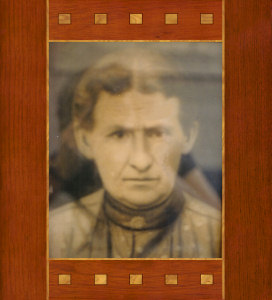 Serena (Cooper) Jones
Carefree Days on the farm
Robert
Visiting Mom and Dad
Mamaw Loretta, Uncle Forest and Papaw Will
Uncle Forest and Aunt Peg had two sons, Glenn and David. All four of them are deceased. Uncle Forest was A & P Food Stores supervisor until his retirement.
Cousins in Aunt Valma's back yard
Delores; Gwenda with son, Sammy and daughter, Candy; Linda Crase; Selma (Crase) Cantrell and her daughter Wilma Carol
Daddy and Siblings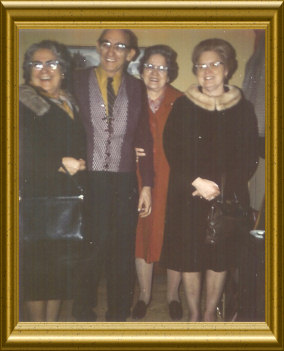 Aunt Valma Craft, Kelsey Adams, Aunt Wilma Crase, Aunt Lovette Lucas Sullivan
Mother of Linda and Selma (above, Cousins picture) and Marietta (Crase) Ball, Bill and Tom Crase (not pictured)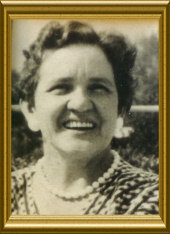 Aunt Wilma (Adams) Crase. Married to Ewen.
I have loving memories of Aunt Wilma. When T.C. died, she just took me under her wings, feed me on Sunday after church and other days, called to check on me and was "just there."
Wilma's Grandchildren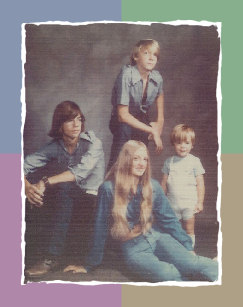 Chris Ball (Marietta's), Mike and Wilma Cantrell (Selma's), Bobby Crase (Tom's)
Mother of Bill, Lester and Jim. Wife of Nat.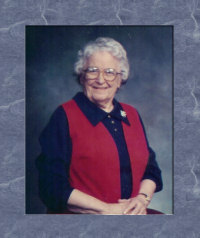 Aunt Valma (Adams) Craft
You had to look long and hard to find anyone who loved her family more than Aunt Valma! Her greatest delight was having family drop in expected or unexpected. She was in her element in the kitchen whipping up something to feed her guests. Then you got lured into a game of Scrabble. When Mother and Daddy lived in Lexington, it was a ritual for them to meet at her house after church, have a snack and sit down to a game of Scrabble.
Aunt Valma and Uncle Nat's oldest son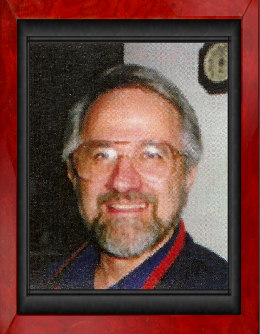 William N. (Bill) Craft
See News of the Family Page for link to Bill's memorial done by his son, Winn
Enjoying a game of jarts in the Craft's backyard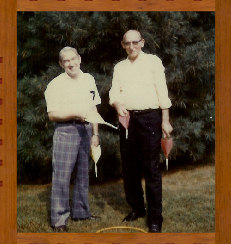 Uncle Nat and Daddy
All "Girls"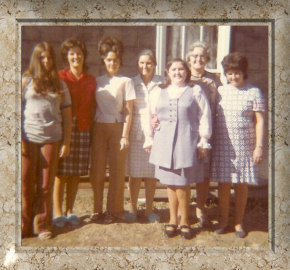 Karen and Lorinda Grubbs, Delores, Mother, Linda and Wilma Crase, Alice (Adams) Hall
Just Fellows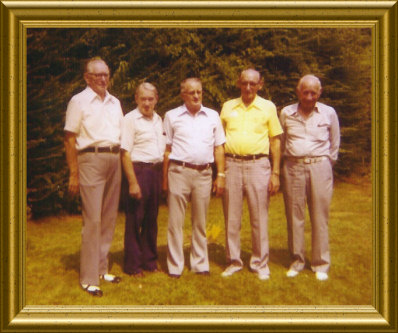 Uncle Forest, Uncle Nat Craft, Uncle Ewen Crase, Daddy, Uncle Fonda
(Forest, Kelsey and Fonda are brothers, Nat and Ewen are in-laws)
And now the ladies!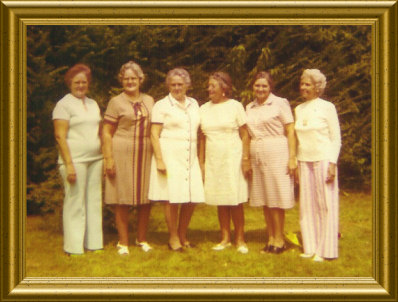 Aunt Lovette, Aunt Wilma, Aunt Valma, Aunt Dorothy, Mother, Aunt Peg
(Lovette, Wilma and Valma are sisters. Mother, Dorothy and Peg are in-laws)
Siblings and Mother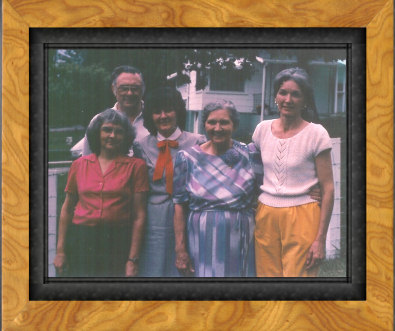 Delores, Robert, Lorinda, Mother, Violetta
Another View of Siblings and Mother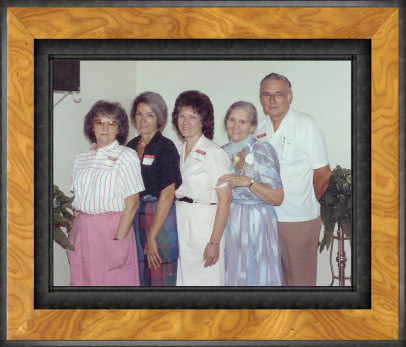 Delores, Violetta, Lorinda, Mother, Robert
At Daddy's funeral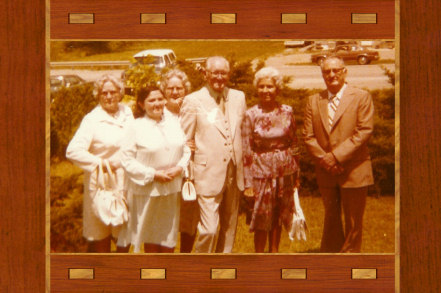 Aunt Valma Craft, Linda Crase, Aunt Wilma Crase, Uncle Forest and Aunt Peg Adams, Uncle Ewen Crase
Celebrating Gwenda and Fred's 25th Anniversary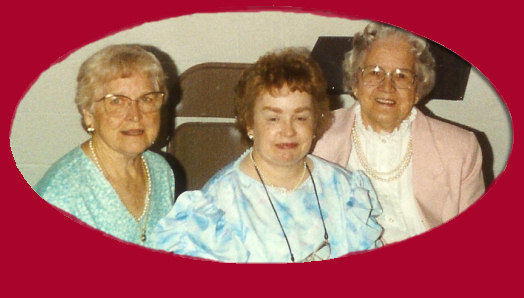 Aunt Lovette; Patricia (Wright) Playforth--Gwenda's sister; Aunt Wilma
At Berea, Kentucky
Mother visiting Berea Church of God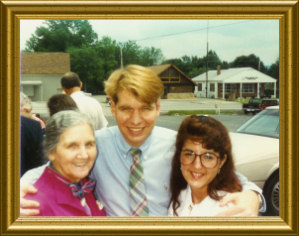 Mother, James Barry and Candace (Castle) Whitworth
In-Laws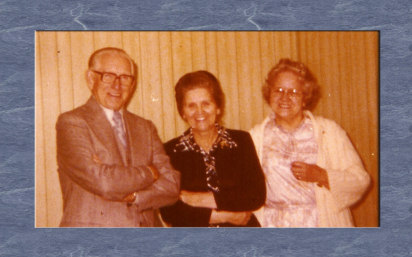 Uncle Forest Adams, Mother, Aunt Wilma Crase
(Forest and Wilma are Daddy's siblings)
Family Get-together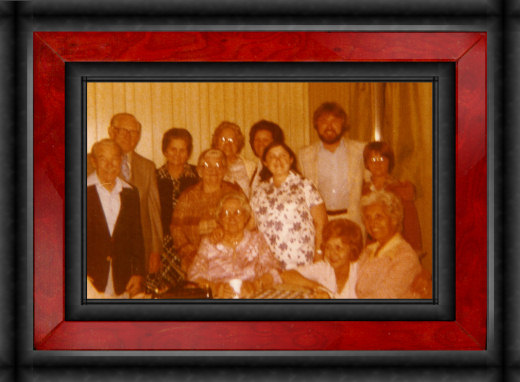 (Standing back row) Uncle Forest, Mother, Aunt Wilma, Lorinda, Phillip, Cathy
(Middle row) Uncle Nat, Essie (Ona Blane's mother), Linda
(Front Row) Aunt Valma, Ona Blaine, Aunt Peg
Family Get-together at my house in Jenkins
Several Generations!
More to come!
Copyright Delores Adams 10/3/04