It is wonderful to be part of a loving extended family, but it's also great to include friends in that circle. Some friends walk in and out of our lives, leaving their heart prints, and others just stay around with their feet still in the prints.
This page is dedicated to those special folks who have left indelible prints on our lives.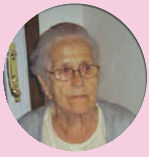 Myrtle Lee Venters
(By Delores)
Myrtle Lee has been my friend longer than anyone I can think of. Before I was even school age, we lived on the top floor of a "duplex," and she and her husband, Ellis, lived on the bottom level. She entertained me in ways that made me feel special and so "grown-up." One memory stands out. She had a small coal stove with a flat top which was meant for heat, but she turned it into a cooking top for just her and me. She would clean the top and put sliced potatoes on the hot top and let me turn them.
Mother was in bed with a new baby when we had a chimney fire. My first memories of her husband are of him running up the back steps still zipping his pants to help put out the fire. Fortunately we had no fire damage.
Through the years, she has been a confidante, counselor and encourager. When my parents lived in Michigan, my husband and I lived ended up living across the road from her in No. 3 section of Jenkins, and she was "there" when I needed parental contact.
So far as I can remember, we have never had harsh words or had a "falling-out." She is a "friend extraordinaire"! Love you, Myrt!
Being hearing impaired is an annoying handicap, but it lets you know who your friends are too. I take tapes from my answering machine for her to listen to and give me the message. Her daughter, Nagatha Anderson, sends me e-mails about information that I need to know, and I can e-mail her to make phone calls, etc. for me. If I go too long without stopping by her mom's, I will get an inquiry to make sure I am OK. Like Mom, like daughter.
(By Delores)
Another family that feels more "family" than just friends is the James and Jean Tackett clan. They have shown themselves to be "friends indeed" many times over. They are just always "there." We also have the privilege of worshipping with them in our church.
James and Jean have two children, Harvey and Kimberly.
James and Jean with grandson, Jacob
Harvey and Jan and Family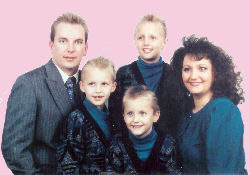 The "Five J's"
James Harvey, Janet (Mullins), Jordan, Jared, Jonah Tackett
The boys are grown now. A couple of them are in college, but they are still "part of the family." The family still resides in Jenkins.
Steve and Kim and Family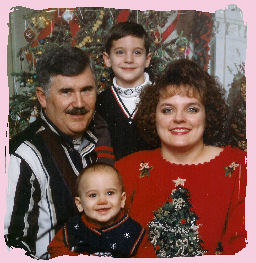 Steve, Kim (Tackett), Jacob and Trevor Addison
The Addisons live in Booneville. Moving away didn't move Kim's family out of the loop though. It is always a pleasure when Kim shows up in my (Delores) Sunday school class bringing her lively boys to give us hugs. At this writing (December, 2004), Jacob is in the 5th grade and Trevor is a vivacious four year old.
Our family will always be very grateful for Jean who was so devoted to Alice. Every trip Delores made to visit Alice, even when she had to be moved to a nursing facility in Ohio, Jean was her companion. Being hearing impaired is difficult, but with someone like Jean who is always so helpful, it is much less stressful.
James and Jean operate Golden Years Rest Home in Jenkins where Mother spent the last few months of her life before Alzheimer's Disease claimed her life. She was treated with love and respect while a resident there.

Since church was so much a part of our lives, our very closest friends usually came from our congregation. We remember sleeping on a featherbed in the floor so visiting ministers could have our beds. (We didn't mind!) We hope to acquire some pictures of our first pastor, Rev. J. L. and Easter Guthrie, whom my parents loved very much. It was their love that brought my parents into the church.
We had many pastors since the church began in 1941, and long-lasting friendships developed as they nurtured us spiritually. The longest tenure was served by Rev. O. L. and Mary Rose who served us for about twenty-one years.
Mary and O. L.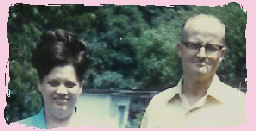 Rev. Rose is now deceased. Mary lives in Fleming. She is a retired nurse's aide.
For more information on our church, see page Our Church.
(By Delores)
Mary Belle Looney has been a friend about as long as Myrtle Lee, as well as a sister in the Lord. For many years, Mary and I sang together in churches in this area and surrounding areas. Mary played accordion, guitar and piano. I sometimes plunked at the piano when we sang. She and her husband, Ellis (now deceased), were both gifted singers and musicians. When Ellis became a Christian, they did a lot of traveling and blessed a lot of different churches with their talents.
Mutual Friends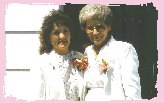 Jean Tackett and Mary Belle
Mary's mother and father, Victor and Nellie Slaughter, were faithful members of our church. Victor was our Sunday school superintendent and Nellie played the piano and sang for us.
More to come as time permits